If you're new to the world of project management apps, you may be wondering which ones are available for free. Here are some options to consider. The GoodDay app, for instance, offers project management tools and custom fields that let you create and manage projects. It also includes recurring tasks, custom statuses, and workflows. It also allows you to track user communication and translates team members' comments and ideas into tasks. The app allows you to easily switch between list, board, and calendar views and has integrations with over 100 other applications.
Project Management Apps
Other features of a project management app include client management and time management. The app also has a separate section for managing clients. It shows the total number of projects and coworkers you've got, as well as how many projects you've completed. It even has a feature that allows you to tag teammates to draw attention to specific issues. These features are invaluable when managing multiple projects and teams. In addition to time and money management, project management software helps you maintain client satisfaction.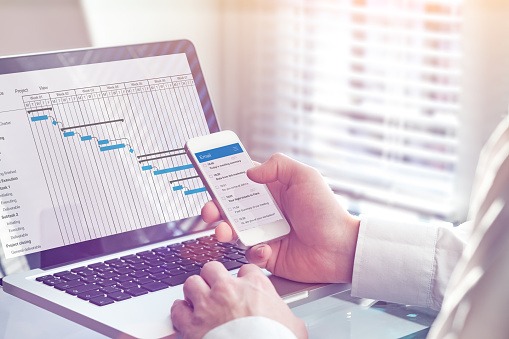 ClickUp offers a comprehensive project management system with customizable workflows. It also supports collaboration across business units and allows you to assign multiple people to a task project management app. The app features global timers that track how much time you spend on a project, and you can also create mind maps and assign tasks to team members. In addition, ClickUp supports multiple assignees, and it syncs with Google Calendar. ClickUp is free for basic services.
Jira, a project management app that offers several features for free, is a powerful project management solution that is particularly popular among agile teams. It allows you to create user stories, plan urgent sprints, and distribute tasks to different teams. Jira can also be integrated with Slack and Dropbox. A paid plan costs $7/user per month, but you'll be able to access more advanced features and have up to 250GB of file storage.
The free versions of Zoho, another project management app, are also effective. With a cloud-based system, it offers Gantt charts, integration with other platforms, and basic tracking and reporting capabilities. Zoho works well for small and mid-sized organizations. You can also use the Zoho free app on a long-term basis. Just make sure to use a trial plan first before you decide to purchase it.
Another popular project management app is Trello. This tool allows you to divide large projects into smaller subtasks, view tasks on a Kanban board, and analyze team productivity. With its free version, you can collaborate with other users, but there are some premium features that you should take advantage of. In addition to its free version, you can download the full version for free and access unlimited storage space. If you'd like to try another app, you can also try Orchard Collaboration, which is an open-source project collaboration suite. It also offers ticketing and content management, as well.
Another option is TeamGantt. This free app allows you to plan and schedule large projects, manage dependencies between tasks, and collaborate with stakeholders and clients. This free app stores all team discussions in one convenient location, and allows you to keep team members' workloads reasonable. It is also very user-friendly, allowing you to share files with other users. While this app is free, you can use it for as long as you need.